Buzludzha VR
Release Date: 20 Nov, 2019
48
RRP: $11.99
Our price: $4.92
Explore a reimagined version of the abandoned Buzludzha Monument in Central Bulgaria. Sense the scale of the megastructure and take in the atmosphere of the surrounding landscape. Immerse and entertain yourself with fun interactions, and learn about the history of the monument.
OVERVIEW:
Explore the detailed environments and enjoy high-quality graphics in VR.

Discover and reveal hidden artefacts using the special flashlight provided.

Fly around the monument with a fully controllable helicopter.

Climb to the top of the 70m high tower.

Practice your aim with the world's first wine gun or simply use it to make a mess!

Play the fully-interactive grand piano.

Navigate by teleporting or use smooth locomotion - customise locomotion settings to your taste. Snap turn and crouch settings are also available.

Experience a real-world structure that is currently impossible to enter.

Enjoy the experience in daylight or night-time (Dark Mode)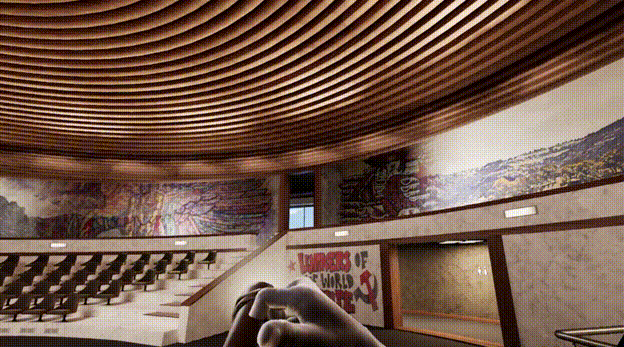 Buzludzha VR provides a unique and immersive experience that both educates and entertains, and pushes the limits of interaction and real-time graphics in virtual reality.
Buz-what?
booze-woo-jah [bu:zwu:dʒɑ:]
Situated on top of a mountain over 1400 meters above sea level, this UFO-shaped structure was built in the 1970s and was used as the headquarters of the Bulgarian communist party. In November 1989 Bulgaria ceased to be a Communist State and the building was promptly closed down. After years of disuse and with no further maintenance, the abandoned structure began to quickly deteriorate and suffer from acts of vandalism.
‍
Thanks to the building's unusual design and unique location, it did not take long for Buzludzha to become one of Europe's most iconic abandoned sites. It continuously attracts urban explorers from all around the world.
SYSTEM REQUIREMENTS
Windows
Minimum:
Requires a 64-bit processor and operating system

OS: Windows 10

Processor: Intel Core i5-4590 or equivalent

Memory: 8 GB RAM

Graphics: NVIDIA 1060 6GB or equivalent

Storage: 4 GB available space
Recommended:
Requires a 64-bit processor and operating system

OS: Windows 10

Memory: 16 GB RAM

Graphics: NVIDIA 1070 8GB or greater

Storage: 4 GB available space
Mac OS X
Minimum:
Requires a 64-bit processor and operating system
Recommended:
Requires a 64-bit processor and operating system
SteamOS + Linux
Minimum:
Requires a 64-bit processor and operating system
Recommended:
Requires a 64-bit processor and operating system