RiMS Racing
Release Date: 19 Aug, 2021
29
RRP: $49.99
Our price: $35.42
A race is not won purely on the track, so you need to become more than a rider by understanding motorbike behaviour like a real engineer. Traction, angle, braking, torque, trajectory, speed… every factor must be considered before heading to the workshop to change certain components and configuring the optimal set-up.
A DREAM GARAGE
Your adventure starts by choosing your dream motorbike. In RiMS Racing, you can ride the world's 8 most powerful European and Japanese motorbikes: Ducati Panigale V4 R, MV Agusta F4 RC, Aprilia RSV4, BMW M 1000 RR, Suzuki GSX-R1000R, Honda CBR1000RR, Kawasaki Ninja ZX-10RR, Yamaha YZF-R1. Recreated with an unmatched level of detail thanks to close collaboration with each manufacturer, these motorbikes also provide a highly accurate and realistic riding experience. They are true rough diamonds that only need a few cuts to shine their brightest!
OPTIMISE YOUR MOTORBIKE
With a mechanics management system never before seen in a motorbike simulation, you can dismantle all your bike's parts to maintain them after each race or to upgrade them and boost your performance. You will become familiar with every last screw in your motorbike. Browse a catalogue of over 500 official spare parts from the biggest names in the industry along with over 200 official equipment items to personalise your rider!
ANALYSE YOUR PERFORMANCE
RiMS Racing thrusts you straight into the heart of the action with the Motorbike Status Check (MSC), which helps you analyse your bike's behaviour in real time and understand how to optimise your performance. Brake disc temperature, tyre compound and pressure pressure, suspension behaviour affecting stability, electronic settings… Just like for a real rider, your motorbike's configuration can be adapted to your riding style!
ACCURATE AND REALISTIC PHYSICS
The level of accuracy and details provided by the mechanics management and MSC is matched by realistic motorbike physics that will thrill the most demanding of track racers. But thanks to the various ride assist technologies, less experienced players can still learn the techniques that will take them to the top.
THE MOST ICONIC CIRCUITS
Silverstone, Laguna Seca, Suzuka, Nürburgring, Paul Ricard… Travel the world and enjoy thrilling races on 10 faithfully recreated official circuits. For those who prefer roads, five routes in the stunning landscapes of the United States, Norway, Australia, Spain and Italy have been recreated for a different racing experience on two wheels!
MANAGE YOUR CAREER AND TEAM
Career mode in RiMS Racing gives you control of a team. Build your rider by managing their race calendar, choose which R&D areas to invest in, and upgrade the team's skills. If you make the right decisions and improve your racing performances, opportunities with other manufacturers will become available to you!
SYSTEM REQUIREMENTS
Windows
Minimum:
Requires a 64-bit processor and operating system

OS: Windows 10

Processor: Intel Core i5-2300 or AMD FX-6300

Memory: 8 GB RAM

Graphics: NVDIA GeForce GTX 750, 2 GB or AMD Radeon HD 7850, 2 GB

DirectX: Version 11

Storage: 6 GB available space
Recommended:
Requires a 64-bit processor and operating system

OS: Windows 10

Processor: Intel Core i7-4790 or AMD Ryzen 5 1500X

Memory: 16 GB RAM

Graphics: NVIDIA GeForce GTX 1060, 6 GB or AMD Radeon RX 580, 4 GB

DirectX: Version 11

Storage: 8 GB available space
Mac OS X
Minimum:
Requires a 64-bit processor and operating system
Recommended:
Requires a 64-bit processor and operating system
SteamOS + Linux
Minimum:
Requires a 64-bit processor and operating system
Recommended:
Requires a 64-bit processor and operating system
Fleeing from a coyote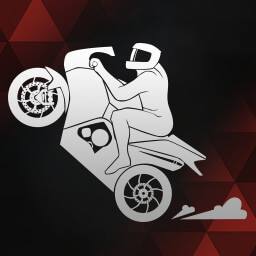 Accelerate 0-100km/h (62mph) in less than 3.5 seconds.
Luckily this is just a game...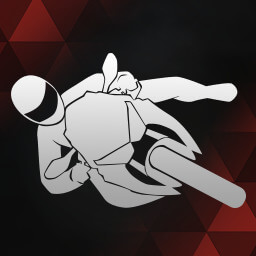 Fall off at least 5 times.
Competing with Barry Allen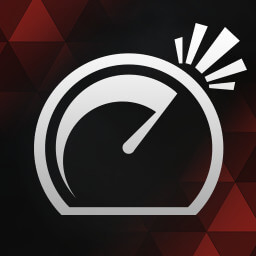 Reach 300km/h (186mph).
Humble beginnings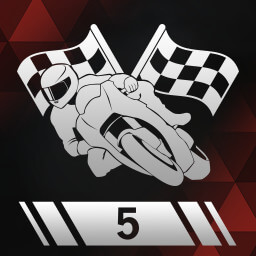 Complete 5 Events in Career mode.
Flying on asphalt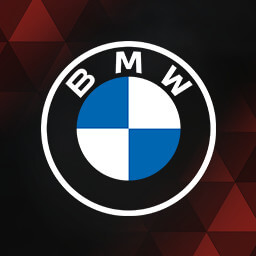 Unlock the BMW M 1000 RR 2021.
All-rounder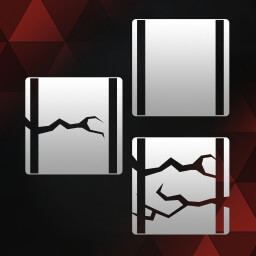 Complete one Event with every type of asphalt condition available in the base game.
The Mechanic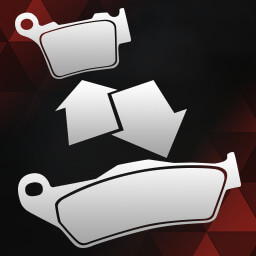 Mount or unmount 150 components on your motorbike(s).
Straight Outta Borgo Panigale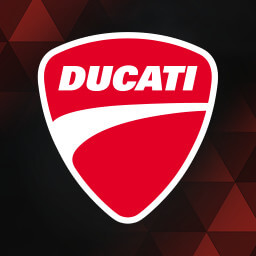 Unlock the Ducati Panigale V4 R 2020.
Louder than thunder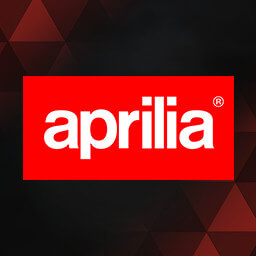 Unlock the Aprilia RSV4 1100 Factory 2020.
Like that guy from Urbino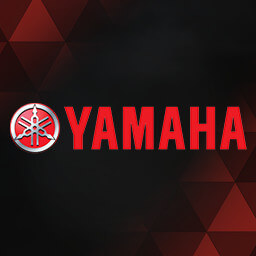 Unlock the Yamaha YZF-R1 2020.
The nicest people...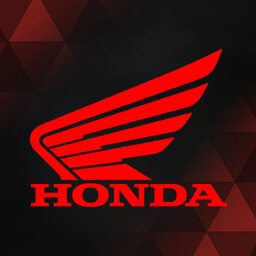 Unlock the Honda 2019 CBR1000RR ABS.
The Green Ninja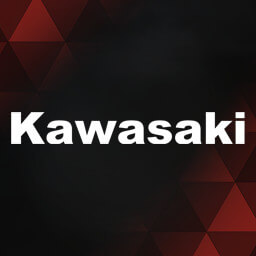 Unlock the Kawasaki Ninja ZX-10RR 2019.
Strong as Ti 22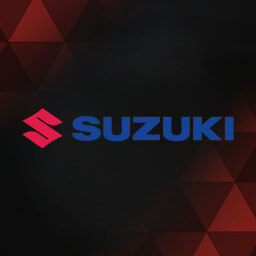 Unlock the Suzuki GSX-R1000R 2019.
Now we're talking!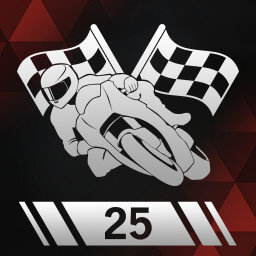 Complete 25 Events in Career mode.
Spring clean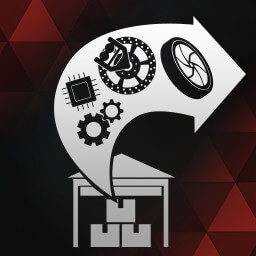 Sell 80 motorbike components.
Born to win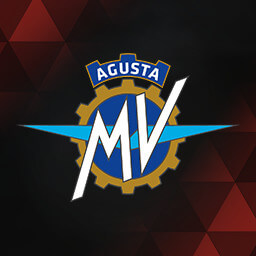 Unlock the MV Agusta F4 RC 2019.
The Big Spender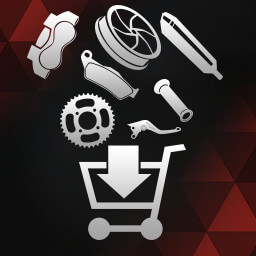 Buy 100 motorbike components at full price.
Fashion addict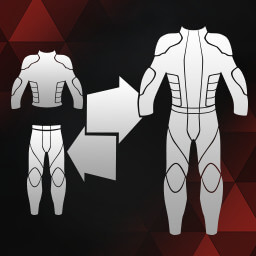 Change your rider equipment at least 20 times.
A matter of money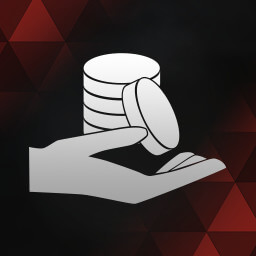 Acquire all Management Area Skills.
Knowledge is power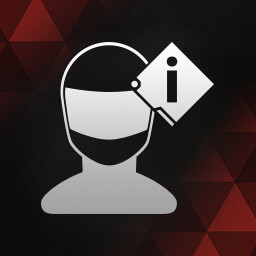 Acquire all Research Area Skills.
The Analyst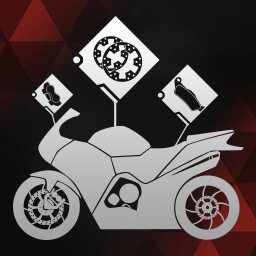 Access the MSC at least 50 times.
Precision is next to godliness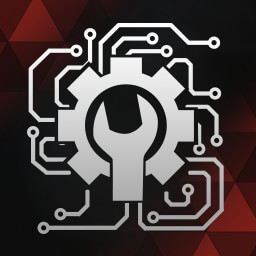 Acquire all Engineering Area Skills.
The Brawler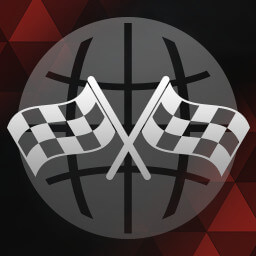 Complete 10 Online Custom Events.
Globetrotter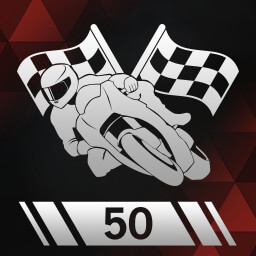 Complete 50 Events in Career mode.
Full optional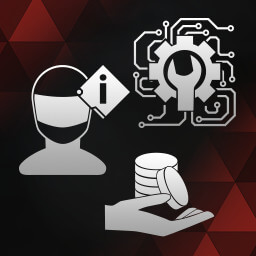 Acquire all Skills in the Headquarters Areas.
Nor heat nor gloom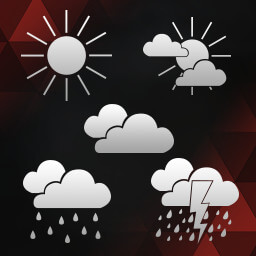 Complete one Event with every type of weather condition available in the base game.
Practice makes perfect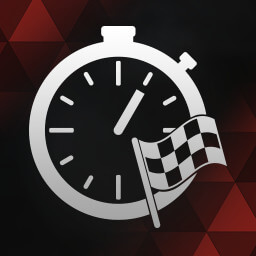 Ride for a total of 2 hours in Private Testing mode.
Challenge Master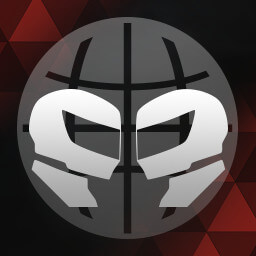 Complete 10 Online Challenge Events.
Complete overhaul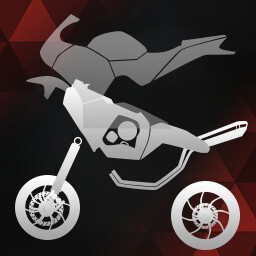 Change every component of one of your motorbikes at least once.
This is not the end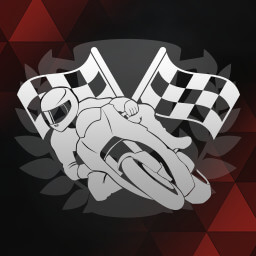 Complete a season in Career mode.
Long live the King!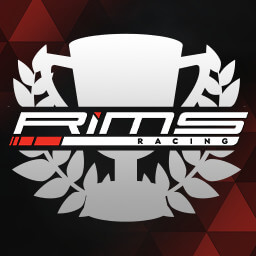 Win the RiMS World Championship.
Business Trip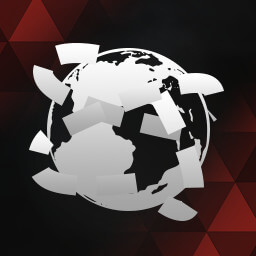 Complete one Event on all tracks (circuits and roads) in the base game.
I love shopping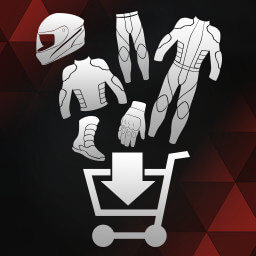 Buy 30 rider equipment items.
Scrooge would be proud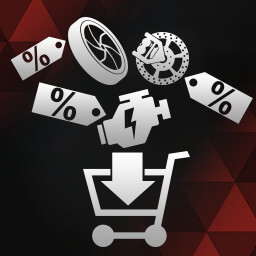 Buy 30 discounted items.
The team needs you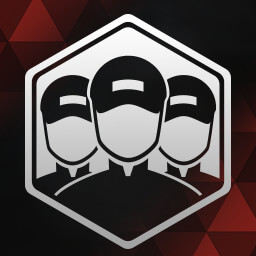 Complete 20 Headquarters Area Objectives.
One Man Team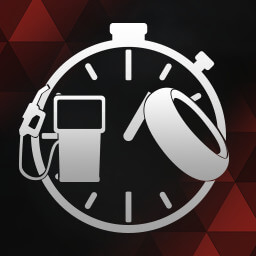 Refill at least 8L (2.11 gal) of fuel and change tyres in less than 00:25.000 in a Pit Stop.
I Am Legend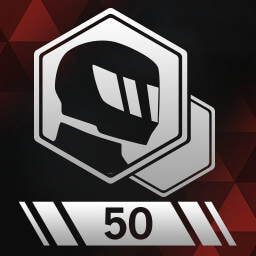 Reach Rider Level 50.
The Academic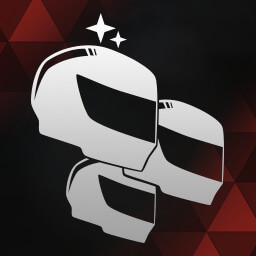 Collect all Gold Helmets in Academy Events.
Living Catalogue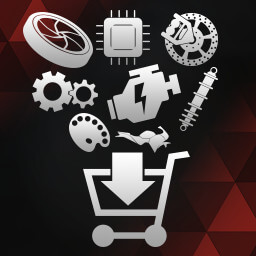 Buy one component for each category.
Where there's a will there's a way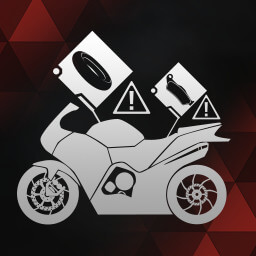 Finish an Event with the tyres and brake pads in Critical Condition.
The Star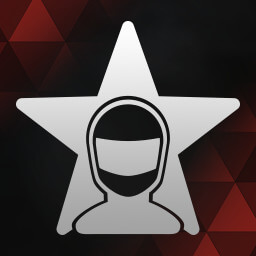 Reach Fame Level 21.