Nefasto's Misadventure: Meeting Noeroze
Release Date: 30 Dec, 2020
66
RRP: $15.99
Our price: $3.90
"Oh no! Did I get amnesia?!" wondered Nefasto before remembering his past.
He's a game data, from a very bad game.
Moments ago he was killing the fearsome Apples from Another World with his trusty giant can. His glory didn't last long as the shoddy work of his programmers couldn't handle even a small bug. His whole world broke down under his limbless feet. As the System started purging his game, he managed to escape with only his sarcasm and his buggy code.
Oh! And an inventory too, a gift from Diana.
While Nefasto tries to figure out where he ended up, a countdown appears above him. He's trapped in your computer, and that's bad news! His buggy code is corrupting the System.
Your computer is about to crash!
You have a limited amount of time to get rid of Nefasto before the countdown drops to zero. Guide Nefasto in an unfamiliar and mostly unpragmatic world as you fix all the problems that he either creates or encounters, but mostly creates. There are a handful of ways to get him out that you can find, and to stabilize your System. Nefasto might prefer a solution where you keep him alive, but that is only optional. The locals may or may not help you.
A Point'n Click Adventure in the Central Unit of your computer.
Prevalent meta-humor in a world that has lost its fourth wall.

Colorful cartoony characters with their own quirky ways to be in Nefasto's way.

A group of entities called Bytes who are ready to share their Binary Powers, after a nice duel.

Bosses who love doing their job at corrupting the System and hurting Nefasto.

Solving puzzles and riddles using either items or Binary Powers. Or the internet.

Various events where the gameplay changes to the whims of Nefasto's game code.

Branching paths and multiple endings. Most are good endings from the point of view of your computer, not from Nefasto's though.

You can jump, but act as if you didn't know that when you get to the tutorial.

Designed to be played either with a mouse or a controller. Everything should accomodate accordingly.
SYSTEM REQUIREMENTS
Windows
Minimum:
Requires a 64-bit processor and operating system

OS: Windows 8.1

Processor: Intel Core 2 Duo 2.4GHz

Memory: 2 GB RAM

Graphics: Intel Graphic Card

DirectX: Version 11

Storage: 2 GB available space

Sound Card: DirectX Sound Device

Additional Notes: Has to be played on a 16:9 resolution screen.
Recommended:
Requires a 64-bit processor and operating system
Mac OS X
Minimum:
Requires a 64-bit processor and operating system
Recommended:
Requires a 64-bit processor and operating system
SteamOS + Linux
Minimum:
Requires a 64-bit processor and operating system
Recommended:
Requires a 64-bit processor and operating system
Kick The Can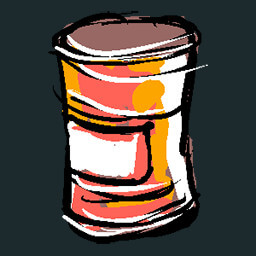 (Secret achievement)