Project CARS: Limited Edition
Release Date: 6 May, 2015
10860
RRP: $49.99
Our price: $4.97
The Limited Edition Car Pack contains five legendary cars with a combined top speed of over 1200 km/h and 2000+ horsepower!

• McLaren F1 – Featuring a central driving position and butterfly doors, the McLaren F1 is one of the fastest production cars ever made with a 0-60 time just over 3 seconds
• Sauber C9 – This Group C Prototype still holds one of the fastest records at Le Mans with wins in all but one race of the World Championship in 1989
• BMW M1 ProCar – Driven by legends such as Niki Lauda and Nelson Piquet, and with a custom paint job by artist Andy Warhol, the M1 ProCar is iconic in motorsports culture
• Mercedes-AMG C-Class Coupe DTM – Building upon its predecessor that was the most successful car in the 28-year history of DTM, the C-Class Coupe DTM is stronger and safer making it one of the most competitive cars running in DTM today
• 1967 Ford Mk IV – Winner of both the 1967 Le Mans 24H and Sebring 12H, and driven by legendary driver Mario Andretti, the Mk IV still holds the record of being the only American car to have ever won the classic endurance race
Project CARS is the ultimate driver journey!

Guided, tested, and approved by a passionate community of racing fans and real-life drivers, Project CARS represents the next-generation of racing simulation as the ultimate combination of fan desire and developer expertise.

Discover an unrivaled immersion fuelled by world-class graphics and handling that allows you to truly feel the road. Create a driver, pick from a huge variety of motorsports in a dynamic career mode and write your own tale in an intense online multiplayer.

Featuring the largest track roster of any recent racing game with a ground-breaking dynamic time of day & weather system, deep tuning & pit stop functionality, and support for Oculus Rift and 12K ultra HD resolution, Project CARS leaves the competition behind in the dust.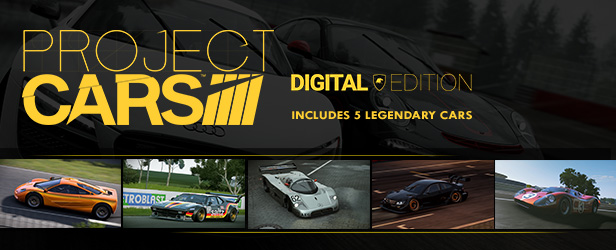 The digital edition of Project CARS also includes the Limited Edition upgrade DLC pack, unlocking 5 legendary cars drivable in any game mode and showcased with special one-make series within your career!

• Ford GT40 Mk IV
• BMW M1 Pro Car
• McLaren F1
• Sauber C9
• Mercedes-Benz AMG C-Coupe DTM

• BEYOND REALITY:
Next-gen graphics, authentic handling, playable via Oculus Rift and 12K Ultra HD resolution

• BY RACERS 4 RACERS:
Guided, tested and approved by fans & pilots for the perfect gameplay balance

• YOUR CHOICES, YOUR VICTORIES:
Master a variety of motorsports & unprecedented track roster in a sandbox career mode
SYSTEM REQUIREMENTS
Windows
Minimum:
OS: Windows Vista, Windows 7 with latest Service Packs
Processor: 2.66 GHz Intel Core 2 Quad Q8400, 3.0 GHz AMD Phenom II X4 940
Memory: 4 GB RAM
Graphics: nVidia GTX 260, ATI Radeon HD 5770
DirectX: Version 9.0
Network: Broadband Internet connection
Hard Drive: 25 GB available space
Sound Card: DirectX compatible sound card
Additional Notes: For racing wheel support check: http://www.projectcarsgame.com/beyond-reality.html
Recommended:
OS: Windows 7 with latest Service Packs
Processor: 3.5 GHz Intel Core i7 3700, 4.0 GHz AMD FX-8350
Memory: 8 GB RAM
Graphics: GT600 series, AMD Radeon HD7000 series
DirectX: Version 11
Network: Broadband Internet connection
Hard Drive: 25 GB available space
Sound Card: DirectX compatible sound card
Additional Notes: For racing wheel support check: http://www.projectcarsgame.com/beyond-reality.html
Ready To Pounce

Had a reaction time of less than 0.2 secs off the starting grid
On Your Left

Lapped an opponent in a race
Keep Calm And Race On

Crashed on or before the first corner then went on to win the race
Twerkin'

Won your first Accolade
Pit Boss

Created and saved a Pit Strategy
Do You Smell Somethin'?

Made your brakes reach a temperature of 1000° C
No Roads Needed

Got all four wheels in the air for more than 0.88 secs
Emergency Stop

Braked to a standstill from 100-0 km/h within 2 secs
Conquered. All. Races. Seriously.

Won every race in a Career Championship
Meticulous

Completed every Practice, Qualifying, and Race session in every round in a Career Championship
Requesting Flyby

Entered and exited the pit lane without losing a position (cannot be in last place)
Credit Where Credit's Due

Crashed into the AI counterpart of an SMS employee
VIP

Received 12 Invitations
Consistency Is King

Performed three consecutive laps within 0.1 sec of each other
Pristine Paintwork
Completed more than 3 Online races with 50% of them avoiding a major collision
Speed Racer

Set a Pole Position time in an Online Public qualifying session
Half Racer, Half Demon

Drove faster than 333 km/h for over 6.66 consecutive secs
My Little Friend

Overtook a car using Formula A KERS
Player 1 Versus The World
Entered and completed more than 25 Online races
Gladiator

Won a Quick Race Weekend with Full Damage, Mechanical Failures, and Tire Wear (must be 5+ laps)
Exorcist

Beat a Ghost from the Time Trial Leaderboards
Lap Time Wizard

Set a time at 50 locations (variations and reverse layouts not necessary)
Grand Chelem

Got pole position in qualifying, fastest lap in the race and won whilst leading every lap
Clean As A Whistle

Won three Online Public races in a row without being involved in a major collision
Taylor Would Be Proud

Won 22 Accolades
Selfie

Took a photo of your Signature Car at your Favorite Location
Double Rainbow

Won the same Career Championship two years consecutively
I Am The 5%

Won an Online Public race using manual gears, and no driving aids, from cockpit view
Eastbound & Down

Ran the California Highway in under 9 mins in a US car
Home Field Advantage

Won more than 20 events at your Favorite Location
One More For The Road

Earned all other Trophies/Achievements
No "I" In Team

Won a Team Championship two years consecutively
Pentapodia

Finished on the podium more than 50 times in an Online Public race
Community Ambassador

Participated in 20 Driver Network Community Events
Petrolicious Love

Won more than 50 events with your Signature Car
Triple Crown

Won three Career Championships in three different motorsport disciplines
Sunday Driver

Driven the speed limit (50 km/h) in an Italian car and appreciated the Azure coastal scenery (Free Practice not allowed)
Zero To Hero

Won the LMP1 World Championship within ten seasons
Mailbox Full

Received more than 500 messages from your fans
Reversa Corsa

Completed a Quick Race Weekend lap of Azure Circuit in reverse from cockpit view without collisions
A Day In The Life

Completed a 24 hour race using only realtime progression (and why not stream it?!)
To Affinity & Beyond
Have an Affinity greater than 50% in all car classes
Defending Champ

Defended a Career Championship for three consecutive years
Fully Loaded

Signed 8 Endorsement deals
Hall Of Fame

Completed three Historic Goals and became a racing legend!
Timeless Touring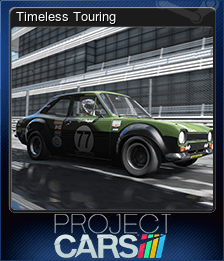 Vintage Art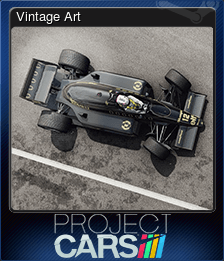 The Pits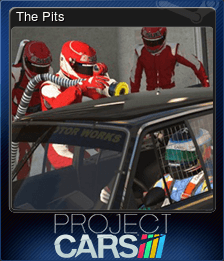 Home Sweet Home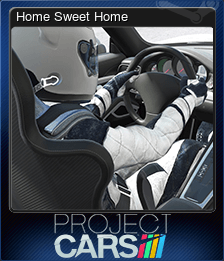 Gridlock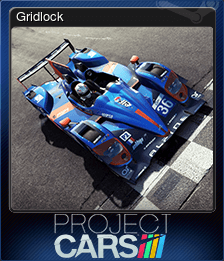 Trackday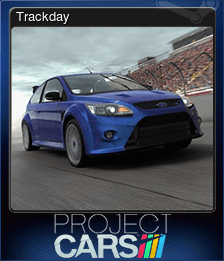 Racing Green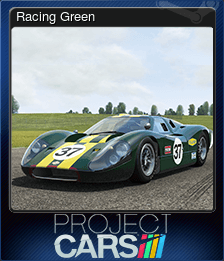 Italian Stallion