Moss
Release Date: 7 Jun, 2018
2425
About the Game
Moss™ is a single-player action-adventure puzzle game and new IP from Polyarc tailor-made for the VR platform. It combines classic components of a great game—such as compelling characters, gripping combat, and captivating world exploration—with the exciting opportunities of virtual reality.
In Moss, players meet Quill, a young mouse with dreams of greatness beyond the confines of her settlement. While exploring the woods, she finds a mysterious Glass Relic and an ancient magic is awakened. With her uncle now in grave danger, Quill must embark on an epic journey—and she needs you there by her side. Together, you'll travel to forgotten realms, solve challenging puzzles, and battle menacing enemies. Alone, no one can conquer what you're up against. But united, you just may defeat even the darkest of villains.
Gameplay
Reach into The World of Moss
Your every action has meaning. Moss takes full advantage of today's virtual reality technology, letting you move objects, battle enemies, and manipulate the field of play as the key ally to our hero, Quill.
Adventure to Fantastic Places
Travel to a lively world that hums with wonder and legend. Explore caves, forests, and foreboding ruins that are filled with ancient artifacts, mysterious creatures, and sprawling views.
Form a Unique Bond
Your abilities are complementary to Quill's in an alliance for the ages. Combine classic, action-adventure controls with a world that responds to your touch. Solve puzzles, combat evil, and achieve victory together.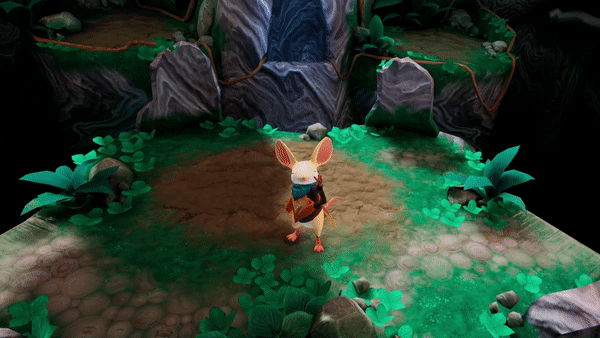 A Story Told Unlike Any Before
From its opening pages, Moss will draw you into a first-of-its-kind fully immersive world of myth and magic. Enjoy a rich tale of intriguing characters, illustrious artifacts, and legends old and new.
SYSTEM REQUIREMENTS

Windows

Minimum:

OS: Windows 7/8.1/10 (64-bit versions)
Processor: Intel Core i5-6600K / AMD Ryzen 5 1400 or equivalent
Memory: 8 GB RAM
Graphics: Nvidia GeForce GTX 970 / AMD RX 480 8GB or equivalent
DirectX: Version 11
Storage: 12 GB available space

Recommended:

OS: Windows 10 (64-bit)
Processor: Intel Core i7-4790 / AMD Ryzen 5 1500X or better
Memory: 8 GB RAM
Graphics: Nvidia GeForce GTX 1070 8GB / AMD RX Vega 56 8GB or better
Storage: 12 GB available space
Forgotten Pieces

Discover your first Forgotten Piece.
The Clearing

Enter the Clearing alongside Quill.
The Impassable Mire

Follow the Starthing and Quill into the impassable Mire.
Thank you.
Use your power as a Reader to heal Quill for the first time.
The First Trial

Defeat the Screechers first encountered in the Mire.
The Mire Temple

Enter the Mire Temple alongside Quill.
Tools of the Enemy

Use a Screecher to unlock the path forward.
Nice work, friend!

Give Quill a high five.
Hedge Knight

Use Quill's sword to cut down a lot of grass.
Dust Collector I

Collect a small amount of Relic Dust.
Battle for Control

Take control over many Forged enemies.
I'm not scared!

Startle Quill from behind.
Thorn in Our Side
Guide Quill to destroy multiple thorn patches.
An Arcane Key

Unlock the path to the Mire Temple's altar room.
A Sacred Oath

Light the torches of the Knights of the Sun.
The Twilight Garden

Enter the Twilight Garden alongside Quill.
Namelhook Mining Co.

Enter the Namelhook Mining cave alongside Quill.
The Abandoned City

Enter the Abandoned City alongside Quill.
In Champion's Clothes

Find new armor in the Twilight Garden.
Clever Shooting

Destroy a Forged enemy with a controlled Scorcher.
The Ascent

Climb to the castle bridge alongside Quill.
Ghostface Crushah

Use your power as a Reader to break many objects.
A Promising Beginning

Finish the first book of Moss.
An Unlikely Hero

Defeat the serpent Sarffog.
Dust Collector II

Collect a large amount of Relic Dust.
Don't Pet the Animals

Annoy Quill by delaying the adventure.
Shot Through the Heartwood

Find a new sword in the the Twilight Garden.
All Roads Lead

Find all three portals to the Twilight Garden.
Idiurus Macrotis

Destroy a Forged enemy with an aerial attack.
Best Held with Her

Defeat the Recast Commander to earn a blessing.
You lookin' at me?

Fist bump the Toad after a staring contest.
Creative Cliffhanger

Find a low-hanging path to the town pub.
Pub Smash!

Break everything within the town pub that can be broken.
The Author's Plan

Collect all of the forgotten fragments.
Bugs for Dinner

Feed the Toad three dragonflies.
What Remains of Power

Collect all of the Relic Dust.
A Forged Maestro

Destroy two or more Screecher enemies with a controlled Ticker.
Protector of the Realm

Rescue Argus without a single death.