Heart&Slash
Release Date: 9 Aug, 2016
1483
RRP: $14.99
Our price: $11.31
Heart&Slash is a 3D brawler that is set in a world where machines are all that remains from the Human civilization.
You play as Heart, an innocent robot fighting to escape the grip of the evil and all seeing machine QuAsSy (Quality Assurance Systems).
But make no mistake Heart&Slash is a hard game. Every death is permanent and means a new randomly generated level for you to start over with a different set of weapons and items you can use, new enemies to fight and secrets to explore.
Heart&Slash is an indie game developed by a small but passionate team. We have a tiny budget but big hearts, and we are giving it all to make this game (our first) the best we can.
Features (on final release):
-3 worlds to explore and fight in. Each world includes its unique enemies an bosses.
-Dozens of different weapons and equipment pieces (more than 100 in total) to customize Heart and your play style.
-Perma-death, but a persistent progression system that gives you more options as you play the game.
We hope you enjoy Heart&Slash as much as we enjoy making it!
Welcome!
SYSTEM REQUIREMENTS
Windows
Minimum:
OS: Windows 7
Processor: Intel i5 or better
Memory: 4 GB RAM
Graphics: nVidia 550 or better
DirectX: Version 10
Storage: 1 GB available space
Mac OS X
Minimum:
OS: OSX 10.4 or better
Processor: intel i5 or better
Memory: 4 GB RAM
Graphics: nVidia 550 or better
Storage: 1 GB available space
SteamOS + Linux
Minimum:
OS: Linux 32-64 bits
Processor: intel i5 or better
Memory: 4 GB RAM
Graphics: nVidia 550 or better.
Storage: 1 GB available space
BABY STEPS

UPGRADE A WEAPON AND LET THE GOOD DOCTOR KNOW
ANTI-AIR ROBOT

DEFEAT TEN FLYBOTS
SNEAKY

DEFEAT YOUR FIRST SHIELDED ENEMY
FIGHTING BACK

DEFEAT TEN SMALLBOTS
BULLY

DEFEAT TEN NIMBLEBOTS
THAT WASN'T THAT HARD

DEFEAT TWENTY FIVE FLYBOTS
THE LITTLE ROBOT THAT COULD

DEFEAT TEN BIGGRUNTS
DAVID AND GOLIATH

DEFEAT YOUR FIRST TRIPOD
ROBOT SMASHER

DEFEAT TWENTY FIVE SMALLBOTS
OPRESSOR

DEFEAT TWENTY FIVE NIMBLEBOTS
EYE OF THE TIGER

SURVIVE FOR TWENTY MINUTES
TOUGH ROBOT

SURVIVE THE DOCTOR'S CHALLENGE
ANTI-LASER ROBOT

DEFEAT TEN LASER ARMED ENEMIES
THE BIGGER THEY ARE...

DEFEAT TWENTY FIVE BIGGRUNTS
LOST AND FOUND

EXPLORE ONE HUNDRED ROOMS
HEART ATTACK

SURVIVE TEN ARENAS
BRING ME MORE

DEFEAT ONE HUNDRED FLYBOTS
BOING BOING

JUMP A THOUSAND TIMES
MERCIFUL HEART

DON'T BE MEAN
SHIELD PIERCER

DEFEAT FIFTY SHIELDED ENEMIES
KNIGHTED

DEFEAT THE GUARDIAN
BLINDING LIGHT

DEFEAT TWENTY FIVE LASER ARMED ENEMIES
MIND TRICKS

HAVE YOUR ENEMIES DEFEAT TWENTY OF THEIR OWN
GIANTSLAYER

DEFEAT FIVE TRIPODS
ELITIST
DEFEAT FIFTY ELITE ENEMIES
DESTROYING THE HORDE

DEFEAT ONE HUNDRED SMALLBOTS
THE BEST DEFENSE

SURVIVE SLASH'S CHALLENGE
SCOURGE

DEFEAT ONE HUNDRED NIMBLEBOTS
THAT ARMOR WON'T HELP

DEFEAT TWENTY FIVE ARMOURED ENEMIES
HEARTFULL

REACH FIFTEEN HEARTS OF MAX HEALTH
DOOMED

CLEAN THE REMNANTS
TRACTOR BEAM

DEFEAT YOUR FIRST MAGNET
...THE HARDER THEY FALL

DEFEAT ONE HUNDRED BIGGRUNTS
FIGHT THE POWER

DEFEAT FIFTY C.O.P.S. ENEMIES
PHOTOPHOBIC

DEFEAT YOUR FIRST C.O.P.S. FLASHBANG
WELL GROOMED

EQUIP YOURSELF COMPLETELY
HOMERUN

BAT FIFTY MISSILES
LIBERATED

DISRESPECT THE AUTHORITY
IT'S JUST BAIT

DEFEAT TEN WORMS
BLACK METAL

UNLOCK ALL AXES
UNBREAKABLE

DEFEAT FIFTY ARMOURED ENEMIES
INTO THE THUNDERDOME

SURVIVE FIFTY ARENAS
GRUNT WORK

DEFEAT TWENTY FIVE SMALLBOTS IN THE CITY
THE WALKING LEFT

DEFEAT ONE HUNDRED SCAVENGERS
QUALITY ASSURED

BEAT QUASSY AND UNCOVER THE TRUTH
SHORT CIRCUIT

USE YOUR HEAD AND SAVE SLASH
CROWNED

LONG LIVE THE QUEEN
BACKPACKING IN THE APOCALYPSE

DEFEAT FIFTY SMALLBOTS WITH A BACKPACK
MARCHING ON

HELP SLASH EXIT THE FACTORY
PUNCH OUT

UNLOCK ALL FIST BASED WEAPONS
FACTORY CLEAR

COMPLETE ALL THE QUESTS IN THE FACTORY
THE PROFESSIONAL

DEFEAT TWENTY FIVE ENEMIES WITH A BACKSTAB
DISCO PARTY

DEFEAT FIFTY LASER ARMED ENEMIES
HIDE AND SEEK

FIND SLASH IN THE OUTSIDE WORLD
SHARP FIGHTER

DEFEAT ONE OF EACH ENEMY CARRYING A BLADE OR A SAW
FEARLESS

DEFEAT ALL BOSSSES IN THE FACTORY AND THE CITY
LEGEND

DEFEAT TWENTY FIVE TRIPODS
SQUISH

DEFEAT TWENTY FIVE WORMS
ROBNIN

UNLOCK ALL BLADES
FOLLOW THE LEADER

DISPLAY YOUR COMMITMENT
COLD PAYBACK
DEFEAT FIFTY SMALLBOTS WITH A FREEZER BACKPACK
CREATURE OF THE NIGHT?

CREATURE OF THE NIGHT!
WELL COOKED

DEFEAT FIFTY SMALLBOTS WITH A FIRE BACKPACK
TOWARDS THE SUNSET

SIDE WITH SLASH IN THE FIGHT AGAINST QUASSY
WORM EATER

DEFEAT FIFTY WORMS
FAST LEARNER

BEAT THE UNBEATABLE
HEART&SLASH

TOGETHER WE RISE
CLEAR EYES, FULL HEARTS

FINISH A LEVEL UNSCATHED
TEST RUN

BEAT QUASSY WITH THE PROTOTYPE
IS THIS A JOKE?

BEAT QUASSY WITH A FULLY UPGRADED RUBBER DUCK
BAD PUPPY

DEFEAT TWENTY OF EACH DOG'S PARTS
HEART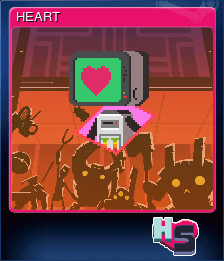 SLASH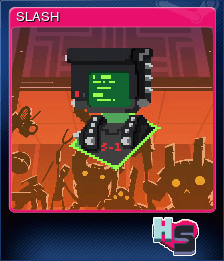 ECLIPSE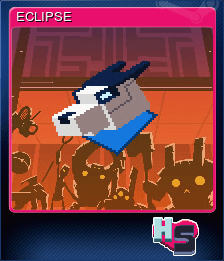 PROTOTYPE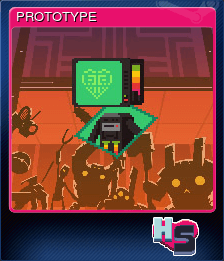 HEART-O-WEEN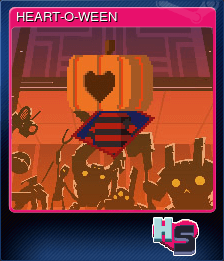 QUALITY ASSURANCE SYSTEM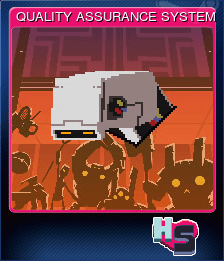 B-DSS KNIGHT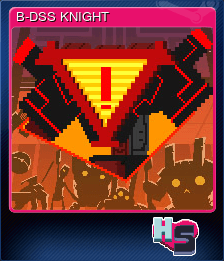 OLD DOOMED FRANK-Y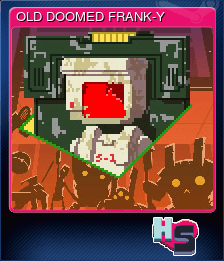 LT. COL. COPGORE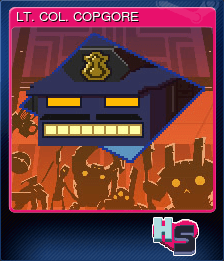 HEARTECH ELITE GUARD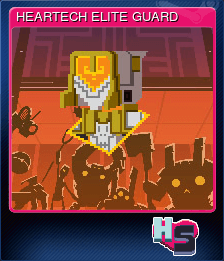 DR. SYMPATHIC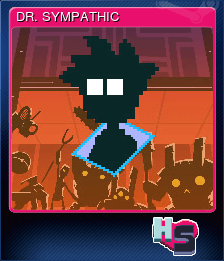 ASSISTANT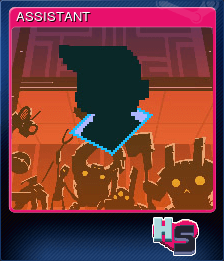 SCAVENGER QUEEN HERBIE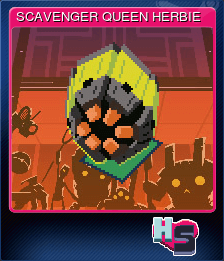 ROBNIN