Just Cause 4
Release Date: 4 Dec, 2018
1655
RRP: $59.99
Our price: $9.40
About the Game
Welcome to Solis, a huge South American world home of conflict, oppression and extreme weather conditions. Just Cause 4 sees rogue agent Rico Rodriguez land in Solis to hunt down the truth about his past, at any cost. Strap into your wingsuit, equip your fully customizable grappling hook, and get ready to bring the thunder!
KEY FEATURES
Bring The Thunder:
Soar through the skies with your wingsuit - Skydive, Base Jump and Free Dive with no limits!
Fight your enemies under extreme weather conditions, including towering tornadoes and tropical lightning storms, taking the iconic Just Cause action to insane new heights.
Use extreme weather events to your advantage thanks to never seen before in-game physics.
Rico's Ultimate Mission:
Spearhead the rebellion and defeat the Black Hand, a hi-tech private military organisation.
Face off against Gabriela Morales – your most fierce, capable, and unpredictable adversary yet.
Uncover the truth of Rico's father's past life on Solis' and its extreme weather.
Huge South American World:
Explore the remote South American country of Solis, home of conflict, secrets, and danger.
Enjoy 1024 square kilometres of exotic playground, from rainforest to desert, via snowy mountain peaks.
Discover a plethora of wonders as you explore the world of Solis from bustling cities to rural grasslands.
Creative Destruction at its best
Customize your new grapple hook with evolved and brand-new capabilities, allowing you to create your own personal stunts, destructive methods and overall play style.
Experiment with a huge variety of new vehicles including military jets, helicopters, turbo-fuelled sports cars, and construction vehicles.
SYSTEM REQUIREMENTS
Windows
Classic Hits

Use only the Retract for 15 non-consecutive minutes -- Booster and Air Lifter can't be active!
Chaos Milestone

Increase your Army of Chaos Level by filling up the Chaos bar
Allow Me to Introduce Myself

Help Sargento with his ambush, meet the mysterious Javi Huerta, and visit Garland King on set
A Higher Love

Use only the Air Lifter for 15 non-consecutive minutes -- Booster and Retract can't be active!
Lift Off

Use only the Booster for 15 non-consecutive minutes -- Air Lifter and Retract can't be active!
Bring It Down!

Finish Operation Thunderbarge
What If I... Dive Down?

Finish Operation Windwalker
We Put a Giant Gun on It

Finish Operation Sandstinger
Bomb Disposal

Remove all rigged vehicles from the harbors of Solís
We're in Business

Secure every Factory
A Scorpion's Tale

Secure Illapa
Here to Stay

Secure every Region
Wanderlust

Discover 50% of all discoverable Locations
His name is Luis
Help Sargento stop an invasion of Black Hand reinforcements
Knowledge is Power

Uncover the mysteries of the Lost Tomb of Otorongo
Last Action Hero

Help Garland King finally finish her picture
Weapon Stash

Secure all Small Arms and Heavy Weapons Blueprints
Pinball Dreams

Destroy a vehicle with the PBX Auto-Slug 4 shotgun's
A Game of Chicken

Crash into a flying airplane with your own plane
I Like to Keep My Options Open

Unlock every Grappling Hook Mod
...The Harder They Fall

Destroy every Surveillance Airship
Where I Belong

Stand on foot at the highest point in Solís
Cow-Moo-Flage

Turn 10 Black Hand into Cows using the Cow Gun in a single session
Show Me the Way

Uncover every Ancient Statue
Rico's Roughnecks

Recruit every Pilot
Know My Name

Get on the Leaderboard for every Feat
Don't Choke on My Smoke

Beat someone's score while manually tracking the Feat
Fully Stocked

Secure every Supply Drop Blueprint
A Whole Army of Chaos

Reach Army of Chaos Level 14
I Feel the Need...

Film every Speed Stunt
Stunt Driver

Film every Vehicle Stunt
All the Right Moves

Film every Wingsuit Stunt
Been Around the World

Discover every Location in the game
Rico was Here

Earn all Just Cause 4 Achievements
Black Hand Defence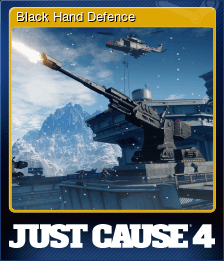 Enter Solis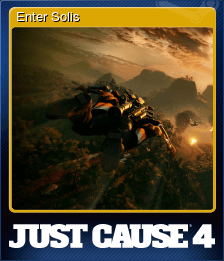 Gabriela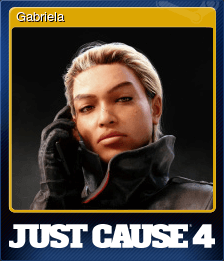 Llama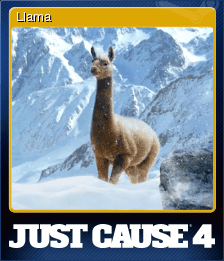 Oasis Buggy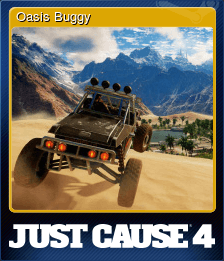 Rico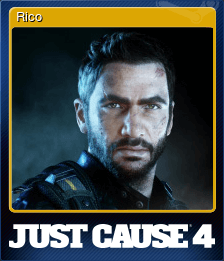 Rico vs Chopper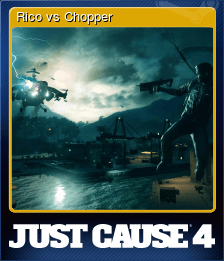 Tornado Chase