PixelJunk Nom Nom Galaxy
Release Date: 3 Aug, 2015
2890
RRP: $9.99
Our price: $2.67
From the award-winning developers behind PixelJunk Monsters, PixelJunk Eden, and PixelJunk Shooter comes a genre-blending mash-up of Soup-tacular proportions!
Welcome to Soup Co., Astroworker! As an integral part of the Soup Co. family, your mission is to explore the remote planets in search of tasty ingredients to make the galaxies most delicious soups and then rocket them into the gullets of our hungry customers. But this isn't your typical soup kitchen - Astroworkers must battle against the planet's elements, alien plants and animals, and dastardly rival soup corporations! Build your base of operations with the help of your fellow Astroworkers and handy Soup Co. robots, make the galaxies most mouth-watering soups, then defend yourself from local wildlife and our rivals.
#nomnomGALAXY
is a sandbox-styled mix of platforming, base building, tower defense, and good old fashioned monster-stomping! You'll create huge factory-bases where you'll experiment with tons of ingredients, make hundreds of types of soups to feed the galaxy, and rise in the ranks of the Soup Co.! Each planet will have its own challenges, from poisons gas to killer tomatoes. Only the most adept of Soup Meisters will succeed!
Key Features
Hundreds of different types of soups to discover

Extensive soup recipe system that uses ingredients all of the planet's plants and animals

Tower Defense gameplay from the makers of one of the most acclaimed Tower Defense games on any platform, PixelJunk Monsters

Living planets that evolve as your base expands

Tons of robot helpers to automate factories, defend your base, and collect ingredients

Battle rival soup corporations throughout the galaxy for soup supremacy!

Local split-screen co-op and up to 4 players online
SYSTEM REQUIREMENTS
Windows
Minimum:
OS: Windows 7

Processor: Intel Core 2 Quad or higher

Memory: 4 GB RAM

Graphics: NVIDIA 9800 GT

DirectX: Version 10

Storage: 650 MB available space

Additional Notes: Laptops without a dedicated GPU may have difficulty running Nom Nom Galaxy. Please refer to the Tom's Hardware GPU hierarchy table to see where your graphics card ranks: http://www.tomshardware.com/reviews/gaming-graphics-card-review,3107-7.html
Recommended:
OS: Windows 7

Processor: Intel Core i7

Memory: 6 GB RAM

Graphics: GeForce GTX 570

DirectX: Version 10

Storage: 650 MB available space
Primordial Soup

Blend and ship your first soup
Souperseded

Defeat your first rival soup company
Local Takeaway

Unlock the first Gravlock
Double Eleven

Play the game at 11:11
Commis Chef

Complete the tutorials
Basic Hygiene Certificate

Unlock 10 Astro Pins
It's Time to Cook Soup and Chew Gum

Chew 10 Galactic Gums
Country Pub

Unlock the second Gravlock
Delivery Boy

Complete 5 days in other players' games
Would You Like to Supersize That?

Create a 100-piece factory in Conquest or S.O.O.P. Sim
Sous-chef de Cuisine

Discover 50 different flavours of soup
You Can't Put a Price on Taste

Spend over 100,000 gold
Variety Is the Spice of Life

Create a factory with 5 soup machines that do not use any of the same ingredients
A Quaint Little Bistro

Unlock the third Gravlock
Dining Al Fresco

Eat 10 different ingredients
Food Science

Unlock all available upgrades
Chef de Cuisine

Discover 100 different flavours of soup
Yes Chef!

Help ship 100 cans of soup for other players
The Favoured Flavour

Create and ship the legendary 'Nutrient Nova' soup
Advanced Cookery Diploma

Unlock 40 Astro Pins
The Great Business Soup Off

Defeat all rival soup companies in the campaign
The Kitchen of the Future!

Create a factory with every type of robot
The Tenderiser

Defeat 5 Queens
Culinary Perfection

Earn an Elite medal in any challenge
Super Astro Bros!

Use the Hopper EX to kill a Shroomba
Mobile Catering

Earn a medal in all challenge types
Escuelerie

Earn a medal in 5 challenges
Tournant

Earn a medal in 10 challenges
Potager

Earn a medal in 20 challenges
Culinary Arts Award

Unlock all Astro Pins
Brigade de Cuisine

Earn a medal in 5 co-op challenges
Master Chef

Congratulations!
Astroworker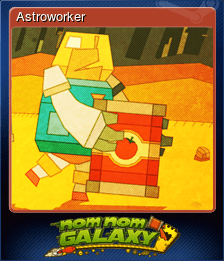 Robo-Shacho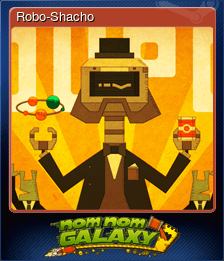 Mr. Chopsticks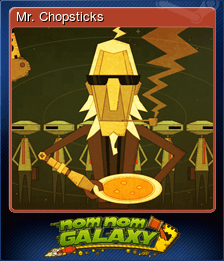 Galaxy in the Soup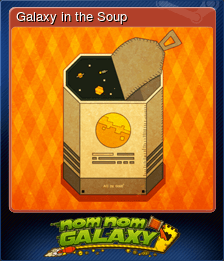 Robotworkers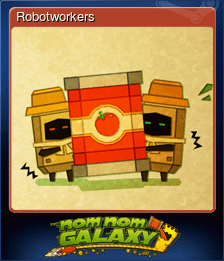 Mossy Mammoth