Flying Tigers: Shadows Over China
Release Date: 29 May, 2017
2204
RRP: $15.99
Our price: $3.33


About the Game
"The sky was a maelstrom of exploding bombers, twisting tracers, flaming parachutes, and Robert's own burning fighter... then his engine quit!"
FTSOC
, short for
FLYING TIGERS: SHADOWS OVER CHINA
, is an air-combat action game based on the true events of America's secret volunteer squadrons that defended China against Japan in the China-Burma-India theatre of World War 2.
Experience rarely depicted air-battles as you take on the role of headstrong fighter pilots, self-sacrificing transport navigators, and daring bomber crews and gunners of the AVG, the RAF, and the USAAF to repel the onslaught of the Japanese war machine. Dogfight skilled enemy aces using "hit and run" tactics, carry out breakaway air-strikes behind enemy lines, and take part in the defense of China's critical supply-routes, from Rangoon up the Burma road, and across the deadly Himalayan "Hump".
FLYING TIGERS: SHADOWS OVER CHINA
recreates some of the most legendary events of the China-Burma-India theatre. A decent collection of historical missions are included, such as the Japanese Christmas-raids on Rangoon, the AVG's first combat over Kunming, the Battle of the Salween Gorge, "Hump" transport missions over the Himalayas, flight-training at Kyedaw in Toungoo, the surprise Invasion of Malaya, and many more.
RARELY DEPICTED AIR-BATTLES OF WORLD WAR 2
Action-packed campaign recreates the clandestine operations of the American Volunteer Group in fighter, bomber, gunner, reconnaissance, torpedo, and night missions.
APPROACHABLE TAKE ON AIR-COMBAT
Features TrazerTime™ slow-motion precision firing, arcade-like combat maneuvers, sim-style pitch & roll controls, moody weathers (including thunderous monsoons, beautiful sunsets and misty dawns), 20+ Allied and Japanese planes, adjustable mouse & keyboard, gamepad, and flightstick controls, and more!
MULTIPLAYER FOR UP TO 16 PLAYERS
Steam leaderboards eternalize players' online rankings across five battle modes! Coordinate devastating air-attacks in TEAM DOGFIGHT while providing cover for your comrades, outdo all enemies using powerful rocket weaponry in ROCKET BATTLE VS, or take to the skies to "Capture the Flag" in the FLAGBUSTERS mode.
PAY ONCE AND PLAY
No micro-transactions or F2P-elements -- for a single purchase, you'll get the full, stand-alone experience -- with unrestricted multiplayer!
FLY IN COCKPIT OR THIRD-PERSON MODE
Soar through the skies of Southeast Asia in third-person or cockpit view in a variety of American, British, Russian/Chinese, and Japanese aircraft.
STRIKING RENDITION OF THE FAR EAST
Faithful environments, beautiful graphics, booming sound effects and an epic-orchestral soundtrack create a lasting impression of the China-Burma-India theatre.
SYSTEM REQUIREMENTS
Windows
Minimum:
OS: Windows 7, Windows 8 or Windows 10
Processor: AMD or Intel Dual-Core processor running at ~1.8 GHz (minimum AMD Athlon 64 X2 6000+ or Intel Pentium Core 2 Duo E6300).
Memory: 4 GB RAM
Graphics: Direct X11 compatible NVIDIA, ATI/AMD or Intel (dedicated or integrated) graphics card with 512MB of dedicated VRAM (and Shader Model 4.0 support).
DirectX: Version 11
Storage: 3000 MB available space
Sound Card: DirectX 11 compliant.
Additional Notes: To play the game in 720p resolution [1280×720] with a steady framerate of around 30 FPS, we recommend the FLAT preset and a Radeon HD 5750, NVIDIA GeForce GTS 250 or Intel HD 4000 graphics card (or above).
Recommended:
OS: Windows 7, Windows 8 or Windows 10
Processor: AMD Quad-Core running at ~2.7 GHz or Intel Dual-Core with HT processor running at ~3.3 GHz (Intel Core i3 2nd generation or AMD APU A6 3670K and newer architectures are recommended).
Memory: 8 GB RAM
Graphics: DirectX 11 compatible NVIDIA or ATI/AMD graphics card with ~3GB of dedicated VRAM (and Shader Model 5.0 support).
DirectX: Version 11
Storage: 3000 MB available space
Sound Card: DirectX 11 compliant.
Additional Notes: To play the game in 1080p [1980×1080] or 1440p [2560×1440] resolution with a steady framerate of around 60 FPS, we recommend the CINEMATIC preset and a GeForce GTX 760 or Radeon HD 7870 graphics card (or above).
Welcome to Burma

Skip the title screen.
Brave Volunteer

Complete flight training by finishing the Kindergarten mission.
Flying Circus

Perform all arcade-maneuvers, then activate TrazerTime.
Took a History Lesson

Read the campaign prologue.
AVG Rookie

Bounce a flight of "Sally" bombers in the Raid on Rangoon mission.
Peace Maker

Strafe or bomb at least 100 enemy soldiers.
AVG Pilot

Escape across Bay of Bengal in the Lucky Day Akyab mission.
Victorious Volunteer

Complete the campaign.
AVG Veteran

Complete the Final Flight mission.
Flying Tiger, Hidden Dragon

Eliminate three enemy aircraft at night.
Torpedogs

Sink all ships in the Torpedogs challenge.
Part Man, Part Machine - 100% Tiger

Achieve at least 50% machine gun accuracy in any campaign mission.
That's… ACE MADDOX

Watch the credits roll.
Chennault's Pursuit Theory

Destroy an enemy aircraft while diving from high altitude in a P-40.
Waiting for the Sperm Whale

Land on water near the Phi Phi Islands and for wait sperm whales to appear.
True Dogfighter

Score 5 kills in a multiplayer battle.
Red Sun Rising

Destroy 10 P-40s flying an A6M2 Zero-fighter.
Swimming With Dolphins

Land on water near the Phi Phi Islands and wait for dolphins to surface.
Gone With the Wind

Dogfight and destroy 10 enemies in less than 5 minutes.
Deadly Pursuit

Score 25 kills in a multiplayer battle.
Sky's the Limit, Ninety Minutes

Play online for at least 90 minutes.
Descending Darkly

Land in front of the Schwedagon Pagoda at night.
Battleflag Bellybuster

Score three "CTF" points in a FLAGBUSTERS online battle.
Flotilla Killah

Sink a Japanese destroyer during the Invasion of Malaya mission.
Samurai Showdown

Survive 15 minutes in the Samurai Showdown challenge.
Ground Attack

Bomb all targets in the Ground Attack challenge with an accuracy of at least 50%.
Eye of the Tiger

Grab all flags in the Eye of the Tiger challenge in less than 4 minutes.
Rocket Lightning

Complete the Rocket Lightning challenge without using machineguns.
Supermarine Spitfire Mk. V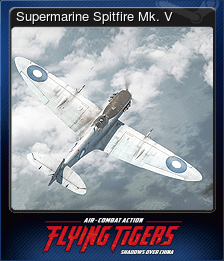 Ki-84 "Frank"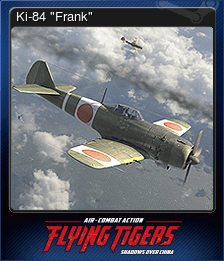 P-40B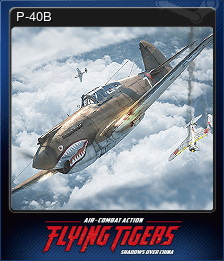 P-51D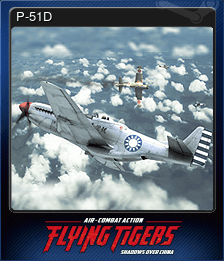 A6M2-N "Rufe"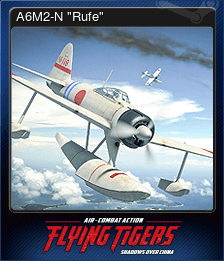 Buffalo Mk. I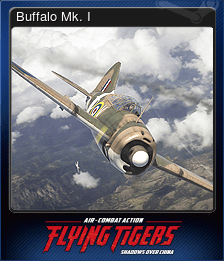 Ki-43 "Oscar"