Blood Bowl 2
Release Date: 22 Sep, 2015
5588
RRP: $19.99
Our price: $2.11

About the Game
TOUCHDOWN!Blood Bowl 2
smashes Warhammer and American football together, in an explosive cocktail of turn-based strategy, humour and brutality, adapted from Games Workshop's famous boardgame.
Blood Bowl 2's new graphics engine and high-flying realization makes for a faithful portrayal of the fury and intensity of classic Blood Bowl matches. The solo game mode will have you lead the famous Reikland Reavers. Former star team of Blood Bowl you are tasked with bringing them back to glory, following a full story campaign supported by the hilarious commentators Jim & Bob from Cabalvision. Each match of the campaign is unique, with unexpected and surprising events constantly renewing the experience!
The multiplayer modes are bigger and richer than ever. In the persistent online mode, create and manage your own team comprised of one of eight races from the Warhammer world – Humans, Orcs, Dwarfs, Skaven, High Elves, Dark Elves, Chaos, and the Bretonnia newcomers. You will develop your team, gaining XP and unlocking new skills. But beware! On the pitch, all losses are permanent... Organize entirely customisable championships, from qualifications to finale, and use the new Transfer Market to buy and sell your players, and build your Blood Bowl dream-team!
The next generation of Blood Bowl touches down today, will YOU be the champion?
SYSTEM REQUIREMENTS
Windows
Minimum:
OS: WINDOWS VISTA/WINDOWS 7/WINDOWS 8/WINDOWS 10
Processor: AMD/INTEL DUAL-CORE 2.5 GHZ
Memory: 3072 MB RAM
Graphics: 768 MB 100% DIRECTX 10 AND SHADERS 4.0 COMPATIBLE ATI RADEON HD 5670/NVIDIA GEFORCE GTX 260 OR HIGHER
Storage: 8 GB available space
Sound Card: DIRECTX COMPATIBLE
Additional Notes: INTERNET CONNECTION REQUIRED FOR THE GAME ACTIVATION *WINDOWS XP NOT SUPPORTED
Mac OS X
Minimum:
OS: MAC OS X 10.10/MAC OS X 10.11
Processor: INTEL CORE I5 3 GHZ
Memory: 4096 MB RAM
Graphics: ATI RADEON HD 6970M/NVIDIA GEFORCE GT 650M OR HIGHER
Storage: 8 GB available space
Additional Notes: INTERNET CONNECTION REQUIRED FOR ONLINE GAMING AND GAME ACTIVATION
Unassailable defence

You won a match without conceding a Touchdown (League or Campaign)
One down! Who's next?

You have won the first match of the Campaign
Made-to-measure team

You have created a team
Expert strategist
You have studied the composition of an opposition team
Cheerleaders

You have hired Cheerleaders for your team
New Coach

You have levelled up as coach
The Grim Reaper

You have lost a player in a match (League or Campaign)
Misanthrope

You have won a match in a solo league
Beat it!

You pushed 3 opposition players off the pitch in the same match (League or Campaign)
Real-life opponent

You have faced a coach in a multiplayer league
To the slaughterhouse

You have bought and fired a player without him even playing a match
Competitor

You have arrived in a competition final
Spike! magazine award

You have reached a Fan Factor of 10
Accomplished Coach

You have won a match in a multiplayer league
Unnatural

You made Mutated a player by increasing his level
Favour of the Amethyst College

You have trained a team until it has killed 5 opponents (League or Campaign)
Favour of the Jade College

You have a team whose value is greater than 1900
Newbie manager

You have hired a member of staff for a team and purchased an enhancement for its stadium
Not so fast!

You intercepted opponent's Pass (League or Campaign)
What a pity

You gained an "MVP" mention for a dead player (League or Campaign)
In dodge we trust

You finished a match with an elf team without incurring any injuries (League or Campaign)
Grand exterminator

You have completed the Campaign and saved the Old World
Outstanding Coach

You have reached the maximum level as coach (20)
Agility at its best

You have taught an Agility skill to a Dwarf player
Coliseum

You have improved a stadium to its maximum level
Horned Rat

You mutated a Skaven player with the Horns skill
Favour of the Grey College

You have trained a player to level 7
Favour of the Golden College

You have trained a team to a treasury level of 500,000
Law of Market

You bought a player in the transfer market
Golden goose

You sold a level 7 player on the transfer market
Blood Bowl expert

You have won all the Achievements
Human Charge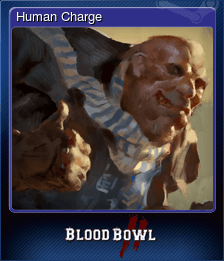 Spiked Drink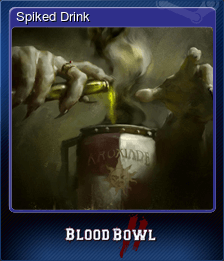 Orc Fun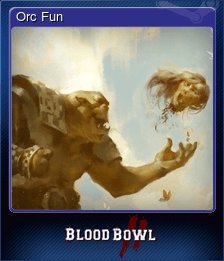 The Aftermath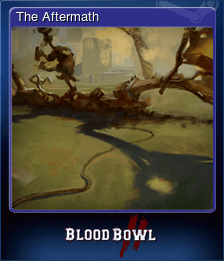 Dwarf Wall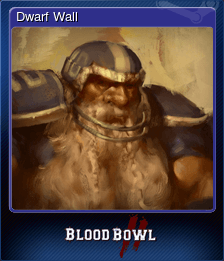 High Flying Elves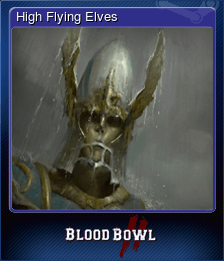 Skaven Rage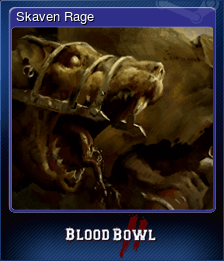 Blood Brawl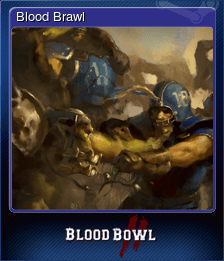 Thunk