ELEX
Release Date: 17 Oct, 2017
4035
RRP: $49.99
Our price: $9.04
ELEX is a handcrafted action role-playing experience from the award-winning creators of the Gothic series, set in a brand new post-apocalyptic Science Fantasy universe that puts players into a huge seamless game world full of original characters, mutated creatures, deep moral choices and powerful action.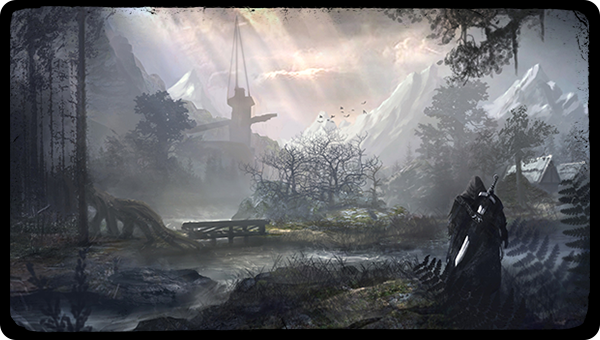 In ELEX, you join the war over a powerful resource that gives people great magic-like powers, but turns them into indifferent cold creatures. You decide if emotions and humaneness or cold synthetic logic will rule the world of Magalan.

Features:
Completely seamless Open World experience without borders and loading zones for the ultimate exploration experience
Vertical Exploration: Use the jetpack to reach any place in the game world
Simulated game world where everything reacts to the players actions and provides for an authentic atmosphere
Highly interconnected quest system that support true player choices
Tactical and challenging combat system for close and ranged combat
Universe set in a post apocalyptic science fantasy universe that combines the most interesting aspects of all genres
SYSTEM REQUIREMENTS
Windows
Minimum:
OS: Windows 7, 8, Windows 10 (64 bit)
Processor: Intel Core i5 at 2.5 GHz or better or AMD Phenom II x4 940 at 3.0 GHz
Memory: 6 GB RAM
Graphics: NVIDIA GeForce GTX 570 or AMD Radeon HD 5870, 1 GB VRAM
DirectX: Version 11
Storage: 20 GB available space
Sound Card: DirectX compatible Sound card
Additional Notes: These are preliminary system specs and can change!
Recommended:
Additional Notes: These are preliminary system specs and can change!
Up and Away

First jet pack flight
Survival

Completed - Survival
The Big G

Earned 1000 Elex shards.
Hunter

Killed 20 monsters.
Atombouncer

Teleported 20 times
Fencing master

Completed - Stolen Equipment.
Honorary Citizen

(Secret achievement)
Shard hoarder

Earned 10,000 Elex shards.
Pack leader

(Secret achievement)
Flashback

Completed - Chaos of Emotions.E86
Butcher

(Secret achievement)
Thief taker

Killed 20 bandits.
Friend or Foe

Killed 20 Albs.
Slayer

Killed 300 monsters.
Luminary

Reached level 20.
Earner

Completed - Tramp Confederacy.
Leader

Completed - Origin The Power of the Center.
Detective

Completed - Decaying Powers.
Prepared

(Secret achievement)
Careerist

Completed 300 missions.
Turned the world upside down.

Completed - Old Obligations.
Cultivator

Joined the Berserkers.
Acolyte

Joined the Clerics.
Big Earner

Earned 100,000 Elex shards.
Thicker than Water

(Secret achievement)
Visionary

Completed ELEX.
Romantic

Started a relationship.
Balance of Power

(Secret achievement)
Sewer Rat

Completed - The Claws.
Big Game Hunter

Killed 1000 monsters.
The Third Way

(Secret achievement)
Runner

Joined the Outlaws.
Pure Rebel

(Secret achievement)
Pilferer

50 successful pickpockets
Splattermaster

Fallen to death 20 times.
Natural Survivor

Learned all survival skills.
Calaan

(Secret achievement)
Safecracker

Cracked 50 safes
Fightmaster

Learned all fighting skills.
Hero

Learned all character skills.
Tinkerer

Modified weapons 20 times
Flexible friend

Learned all dexterity skills.
Human

Cold is 10 or lower.
Beacon of faith

Learned all Cleric skills.
Beast of Xacor

(Secret achievement)
Coldhearted

Cold value has reached 90
Nature Lover

Learned all Berserker skills.
Locksmith

Picked 100 locks.
Master criminal

Learned all Outlaw skills.
Picture Album

Collected 20 pictures.
Duras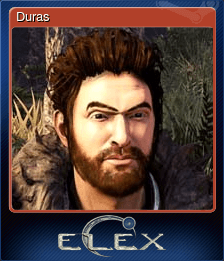 Falk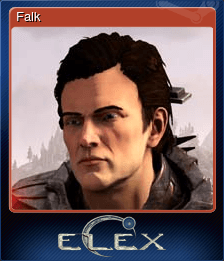 Ray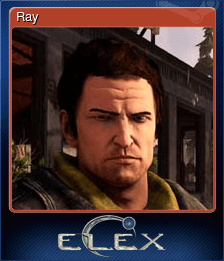 C.R.O.N.Y. U4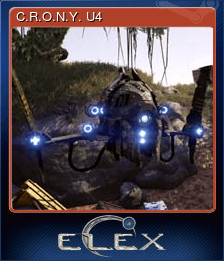 Caja
Nasty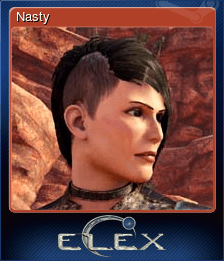 Kallax