Cat on a Diet
Release Date: 29 Feb, 2016
3261
RRP: $4.99
Our price: $1.12
Soft, fluffy, and a little on the chunky side — the podgy pussycat Dr. Meow can't stop munching on delicious cookies and needs your help getting his greedy little paws on more! While his owner sleeps, steal away into the kitchen and help tumble this tubby tabby cat into the prized cookie jar.
Get stuck in!
Swipe and prod to claw away at wooden blocks, unscrew bolts, control powerful magnets and explode highly volatile uranium – anything to reach those cookies!
The hand that feeds?
What are the owners hiding from you? Find out as this pot-bellied kitty's journey for sweet treats takes him up into the attic and down into the secret laboratory.
Snack happy!
Munch all the snacks in each level and spend them on new power-ups, hats, masks and even more cookie-heisting helpers.
- witness the shenanigans of Dr. Meow in a Physics Puzzler for all ages
- visit 4 game worlds (Dr. Meows Home, Spooky Attic, Mysterious Laboratory and visit the middle ages!)
- Over 100 challenging levels to complete
- two diverse game modes
- Collect over 50 fabulous cat costumes
- Use fun tools and inventive methods to reach the cookie jar!
SYSTEM REQUIREMENTS
Windows
Minimum:
OS: Windows 7
Processor: Dual core from Intel or AMD at 2.0 GHz
Graphics: nVidia 320M or higher, or Radeon 7000 or higher, or Intel HD 3000
PIECE OF MUFFIN!

Complete your first level
CHOCO LOVER

Collect 64 Muffins
TICK-TACK

Play for 10 minutes
TIGER!

Slash 200 wooden tiles
MEGA CHOCO LOVER

Collect 128 Muffins
ANTI-MUFFIN

Complete a level with no Muffins collected
LIVING ROOM COMPLETED!

Complete World 1
ULTRA CHOCO LOVER

Collect 256 Muffins
HELLO MOTOR

Use motor 25 times
GROUND ZERO

Hit the Ground 50 times
BULLDOG JAW

Eat 25 chewing gum
SCREWED UP

Unscrew 100 screws
BASKET TRAVELER

Travel in a basket 25 times
ATTIC COMPLETED!

Complete World 2
SUPER CHOCO LOVER

Collect 512 Muffins
NEWTON'S PET

Change Gravity 50 times
QUICK PAW

Change Gravity 25 times in one level
LAB COMPLETED!

Complete World 3
DESTROYER OF WORLDS

Destroy 50 Uranium tiles
CAT-A-PULTER

Use Catapult 25 times
DIMENSION X COMPLETED!

Complete All Bonus Levels
CASTLE COMPLETED!

Complete World 4
CROSS DRESSER

Unlock 50 costumes
BASKET CUTTER

Cut 25 baskets
TOASTED!

Hit Laser 50 times
ULTIMATE CHOCO LOVER

Collect 1024 Muffins
SPIKED!

Hit 25 spikes
UNDERCOVER AGENT
Unlock 65 Costumes
A CAT BEYOND

Teleport 50 times
GLAMOUR-PUSS

Unlock 80 Costumes
Thief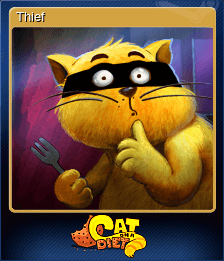 In the jar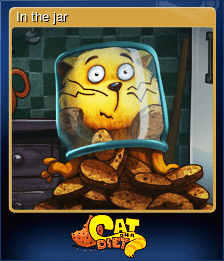 Hunger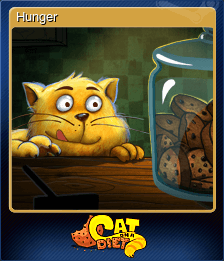 Fail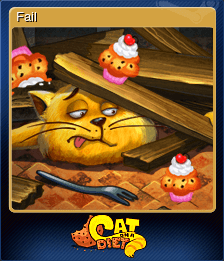 Success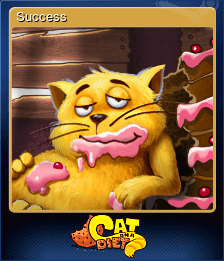 SciFi