Princess.Loot.Pixel.Again
Release Date: 15 Apr, 2016
1486
About the Game
Rescue the King from of a Evil Mage!
Get a beautiful Princess' hand in marriage!
Use various equipment and artifacts!
Dodge from enemies attack and jump over the spikes!
Enjoy pixel retro stylistics!
Have you already done this before? Do it again!
PLPA is a dynamic platformer with a combo system and special strikes, there is also a bit of rogue-lite genre. The principal aim is to get through all floors of the Dark Tower and outfight the main antagonist a Evil Mage. That's not easy due to a instant death which is followed by a full castle structure regeneration.
First of all, success in the game depends on player's skills, not on random. The player learns the game mechanics, operation of certain artifacts, items, skills and also behavior of enemies and bosses. The keynote of this gameplay is for a gamer to learn from mistakes and pump his own skills, but not only the protagonist's ones.
-The main thing about the game is having fun! No farming and excessive complexity.A gamer will face lots of fun things, unusual situations, easter eggs and references to other games. Self-irony also takes place.
-The total generation of location structure, objects, artifacts, traps, enemies and bosses.
-12 characters, different in performance and equipment.
-Create equipment and pump it with stones, runes and enchantment.
-Hidden features and events.
-All of this and much more are seasoned by hurricane-like action with various strikes, skills and spells!
SYSTEM REQUIREMENTS
Windows
Minimum:
OS: Windows Vista or newer
Processor: 2.0+ GHz
Memory: 512 MB RAM
Graphics: Integrated Graphics
DirectX: Version 8.0
Storage: 80 MB available space
Sound Card: Integrated Audio
Additional Notes: Gamepad
May the Force be with you

Start main Quest
This is Princess.Loot.Pixel.Again

Die for the first time
Rank B

Get Rank B
Rank A

Get Rank A
Secret!

Find hidden place
Rank S

Get Rank S
Reference.exe

Find baby
Be Friends

Press TAB in the main menu
Burst in!

Explode the door
Reference_2.exe

Candlevania!
Rank C

Get Rank C
Steel Defender

Warrior saves King
Emerald

Collect 23 artifacts
My name is Begemot

Make four deals with the cat in one run
Magic Defender

Mage saves King
Secretive Defender

Rogue saves King
Precision Defender

Archer saves King
Holy Defender

Paladin saves King
Collector

Collect 15 artifacts in one run
Dark Defender

Necromancer saves King
Friends!

Make a party!
Diamond

Collect 46 artifacts
Line one's pockets

Collect 3000G in one run
Rage!

Berserk saves King
Cyclo Twins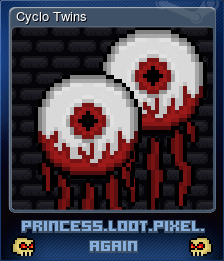 Gideon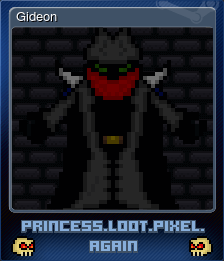 Punisher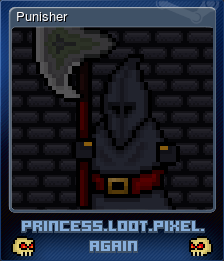 Defenders of Princess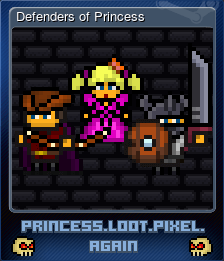 Stone Guard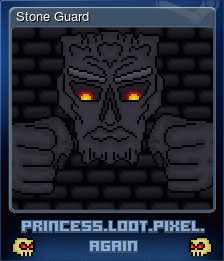 -->